Posted by Niki Adamkova on 9/15/2015 to
Organic
Remember the supple skin of your youth? It was gloriously radiant, firm and ageless. Is there a pathway back to beautiful, youthful skin?
Over summer, we have ran various HFC Newsletters concerning the health of our skin. While many of you have had the opportunity to try the organic, handmade KASIOPEA products from Europe. We have a second line of very exclusive, also hand-made, wild-grown and 100% organic (edible) line of cosmetic FACE & BODY FOOD products to compliment KASIOPEA.
The Herbal Face Food, Herbal Face Cleanser and Herbal Body Food are FANTASTIC products free of ANY TOXIC ingredients.
One day, I was at a major health food store and I bought a wonderful book (which we have available in the form of ane-book). Destiny and life's amazing "playfulness" has eventually led me to the author and the creator of these wonderful 100% organic products.
After the first application of the Herbal Face Food, I was AMAZED with the results! The product has a very unique "herbaliciuous" smell and as it heats up on the skin, it creates a VERY INTENSE hot, burning, stimulating sensation. This is a little unusual at first, but as you keep using the product, you are almost looking forward to this temporary "hot flush"! You can feel every cell in your face absorbing this magical product and your skin healing from the damage of sun, discoloration, acne, eczema, psoriasis and even rosacea.
The Body Food is incredibly soothing and healing as well.
Both of these are very unique, very very clean, well made and provide amazing results...I would not be telling you about them otherwise :-) I really hope you will LOVE this product as much as I do!!!
In health,
Niki & the HFC Crew
What causes our skin to age?
Simply put, oxidation!
When our skin is exposed to oxygen and the elements, like scissors left out in the weather, it oxidizes or rusts.
Like a slice of apple, left on the table, it turns brown or oxidizes (rusts).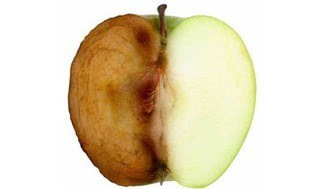 Oxidation = Aging
Is there truly a way to keep our skin from aging?
Anti-oxidants = Anti-aging
Anti-oxidants are powerful nutrients that stop oxidation by coating cells with a thin layer of protection from the harsh elements. Between birth and age 27, our body's own anti-oxidant levels equal the intensity of oxidation's ruthless attack. But after age 27, our anti-oxidant levels decrease, and by age 82, skin damage from oxidation is 70 times greater.
To look young, we must constantly supplement our skin with anti-oxidants. Where can we find the most powerful antioxidants? The world's most powerful antioxidants are found in a few, particular plants.
The ORAC scale (Oxygen Radical Absorbance Capacity), is the foremost scientific method of identifying the world's most powerful anti-aging plants and foods.
Herbal Face Food and Body Food ™ contain plant concentrates and plant butters that combined are the highest ever tested on the ORAC scale.
It registers over 10 million ORAC units versus Acai berries at the highest, only 50 thousand.
contains 100,000 X the anti-oxidant power of Vitamin C.
"You Eat What You Put on Your Skin"
We have addressed this fact in our previous newsletters - 70% of what you rub on your skin gets absorbed into your body. Toxins from skincare products (linked to cancer), can be found in your blood within minutes and in your organs within hours after application.
If you wouldn't eat something or don't want it in your body, then please don't put it on your skin.
But when you rub Herbal Body Food ™ into your skin, it's like feeding your face and your body a pure, healthy, concentrated salad – from the outside, in!
Common, everyday skin care ingredients have been found in breast cancer tumors?
Shockingly, Parabens (just one example), used as preservatives in most commercial products such as moisturizers, shampoos, makeup, shaving gels, toothpaste, underarm deodorants, and even personal lubricants, have now been found inside breast tumors.
What is the potential connection between
Parabens and breast cancer?
Parabens mimic the action of the female hormone estrogen. This synthetic, environmental Estrogen has been proven drive the growth of human breast tumors.
If you shouldn't eat it, then please don't put it on your skin??
Whatever you put on your skin, goes in.
How old is your skin?
No matter how old you are, your skin is actually only about 35 days old (believe it or not). It takes about 35 days for the skin's epidermis to replace itself. Our skin continues to age because we replace old cells with weak, malnourished and poisoned, new cells.
To keep our skin young, we must continually feed our skin the most powerful plant antioxidants. In only 35 days, you could begin to see a whole new, and much younger looking you.
Are you ready to love the difference?
The Herbal Face & Body Food™ are incredibly unique, organic, edible, 100% plants (not just plant-based....they are actual plants in a bottle!), Antioxidant Face Serum and Antioxidant Body-Butter that provide deep therapy and intense skin repair for the face as well as the entire Body (Face, Neck, Chest, Arms, Hands, Legs, Thighs, etc.).
"You Eat What You Put on Your Skin" ™
For the 1st time, 7 of the world's most powerful, rainforest plants have been wild-harvested raw and hand-blendedinto a luxurious, antioxidant-based, butter designed to hydrate, smooth and repair dry, damaged skin. Herbal Face & Body Food ™ feels warm and simply wonderful on the skin.
This powerful, anti-aging moisturizer is specifically formulated to address every part of the body and every skin type and concern, including the repair of severe dryness and loss of elasticity–quickly restoring the appearance of youth and beauty. It delivers superior antioxidant protection that hydrates, nourishes and imparts a vibrant sheen and glow to the skin.
What else you need to know:
In a satisfaction test on 34 women over four weeks:
97% showed improved skin texture (skin appeared and felt softer, more supple and smoother).
95% saw an intense surge of moisture.
92% Felt it soothed the appearance of imperfections and wrinkles.
96% Felt it acted as a great base for makeup.
77% reported improvement in elasticity.
100% Plants (nothing else)!!!
NO Parabens, NO Toxins, NO Sulfates, NO Synthetic Scents, NO Chemicals & Dyes, NO Petrochemicals, NO Phthalates, NO GMOs, NO Triclosan, NO Fragrances, NO Preservatives, NO Silicones, NO Glycol, NO Mineral Oils, NO Synthetic NO Dyes, NO EDTA, NO Aluminum, NO Animal, NO Gluten.
*Hand-harvested & hand-made with Love"